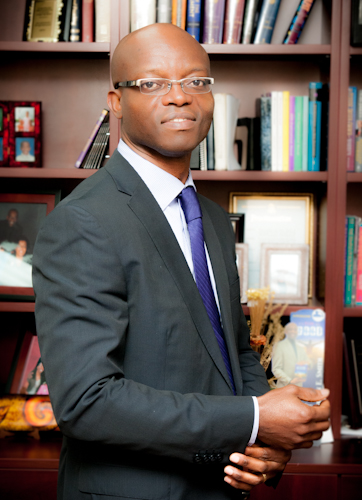 I can clearly recall how excited and anxious I was watching my wife board the plane from the International airport in Lagos, Nigeria on her way to Canada to commence her post graduate degree in Economics at the University of Saskatchewan. I was going to join her in a few months and I could not wait to step my foot on the land of opportunities – as we referred to Canada at the time (and it still is today). My wife, Marie, and I had dreams of creating a better future, building a family and creating wealth in our new country, Canada. We talked about our hopes, dreams, desires and fears almost every day and had little preparation for the challenges we would encounter in Canada.
Four months later in January 2002, I joined my wife in Saskatoon. And here we were with no jobs, no assets, no income and very little savings. With tuition, rent, food and other living expenses, those savings quickly vanished. So, we had to hustle and figure out a way to make a living. My wife was studying full time and worked part-time at a Restaurant washing dishes. I moved from one menial job to another – stacking papers in a Newspaper publishing company, stocking shelves at the Grocery stores and working in production lines in various factories. It was almost impossible to find a job that matched my qualifications (I had Bachelor's degree in Chemical Engineering) and work experience (I had over 4 years of work experience in the Financial Services Industry). At the time, as an immigrant, it was very challenging to find relevant work with no Canadian education or Canadian work experience.
Despite the challenges, my wife and I still had our hopes, dreams and desires. We knew there was value in educating ourselves and we kept at it. I moved to Toronto in 2003 to start an MBA program at the Schulich Business School at York University, all funded with debt. My wife graduated from her Masters program and joined me in Toronto. We still had no jobs, no assets, no income and lots of debt. Essentially, our net worth was negative. Later in 2003, my wife got a part-time job with one of the big five banks in Toronto and in 2004, got her first full-time offer with another bank. I believe her starting salary was less than $30,000 per annum. We were ecstatic, it was a breakthrough for us! Shortly after I finished my MBA program in 2005, I got my first job with one of the big four professional accounting firms in Toronto with a starting salary of $45,000. Although, I had hopes of getting a six figure salary after my MBA program, I was excited to get my first job. Together with my wife, we now had a household income of approximately $70,000, higher than the average Canadian family. With the income, we were able to pay off our student loans, save some money and in the Summer of 2006, bought our home as first-time buyers.
With the income and home, we still had our hopes, dreams and desires to create a better future for ourselves and our kids. We tried a number of things and stumbled onto a few real estate investing educational programs. We were sold on the idea of creating wealth through real estate and started investing in our real estate education. In 2007, we bought our first rental property in Kitchener and have never stopped investing. While we've had our challenges and made many mistakes along the way, the lessons and experiences have been very rewarding. Even more rewarding is the financial rewards that come with investing in real estate. Today, our net worth is in excess of $1 million (i.e. if we sold all our assets, and paid off all our mortgages and debts, we will walk away with over a million dollars). This is principally due to our investment in real estate but also partly due to our rising household income.
Our continued investment in our education (personal, business and real estate) contributed to our rising household income, which enabled us secure more financing for our real estate investments. As a result, we believe in educating yourself as it is one of the most powerful tools in creating wealth. But more important is applying what you've learned because knowledge without action will yield no results. Diligently taking action to apply what I've learned has worked for me and I believe it will work for you.
Today, we control over $3 million in rental real estate assets and we continue to build on this. Although we've put in a lot of hard work over the years, we give God the glory for His mercy, His grace and the opportunities He has blessed us with. I understand that apart from Him I can accomplish nothing and that's why I am so rooted in my faith in Christ Jesus.
My goal is to show you how to build wealth by first investing in yourself and then in business, real estate and other alternative investments. I will accelerate your learning using my experience and save you from the many pains I have experienced along the way. A lot has changed in the business environment and in the real estate industry since I started investing in 2006. I've kept pace with these changes and I have a good idea of what works and what does not. I understand how challenging it is to invest in business or in real estate – the enormous financial and emotional commitments; and the time it takes to deal with tenants and repairs. I know that investing in a business or in real estate is not a passive investment, as most people would make you believe. And I know for certain that it is not a get-rich-quick scheme as some people think. Business and Real estate in particular builds wealth over the long-term, this I know from my experience.
I've shared my story, not to discourage you from investing and pursuing your dreams, but to tell you the truth and dispel some of the myths you may have about investing in a business or in real estate. Because I've lived it, I also know there are so many out there without jobs, income and in a lot of debt. But I also know that these people have lots of hopes, dreams and desires of the future they want to create for themselves and their families. I hope that my story can encourage you to continue to invest in yourself, to keep working harder, to keep the dream alive. Part of what I do, is to help you create a plan and put action plans in place to see you accomplish your desires.
I have nothing compelling to sell to you … I created this personal blog to share my stories, offer useful content, tips and helpful hints to enable you take meaningful actions that will allow you to live your dreams. Contact me today to learn how I can help. I wish you success!
Sincerely yours,
Ken Green, CPA, CA, MBA